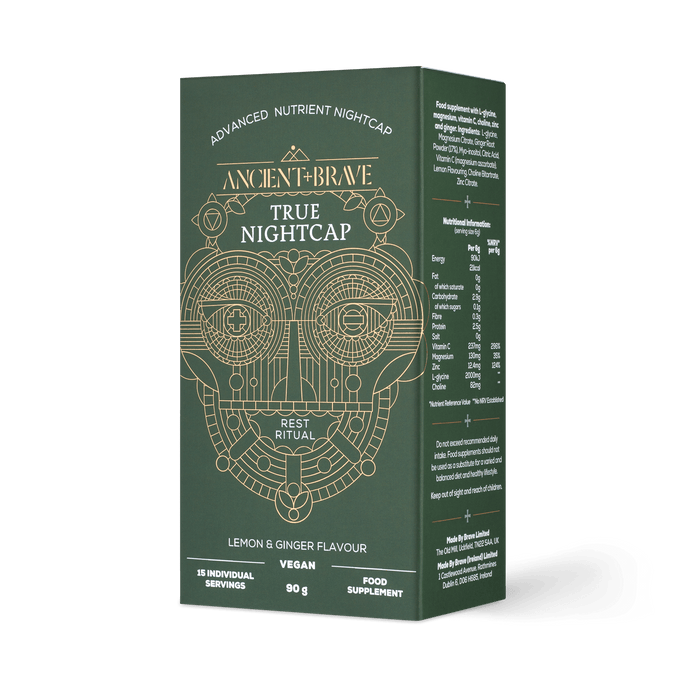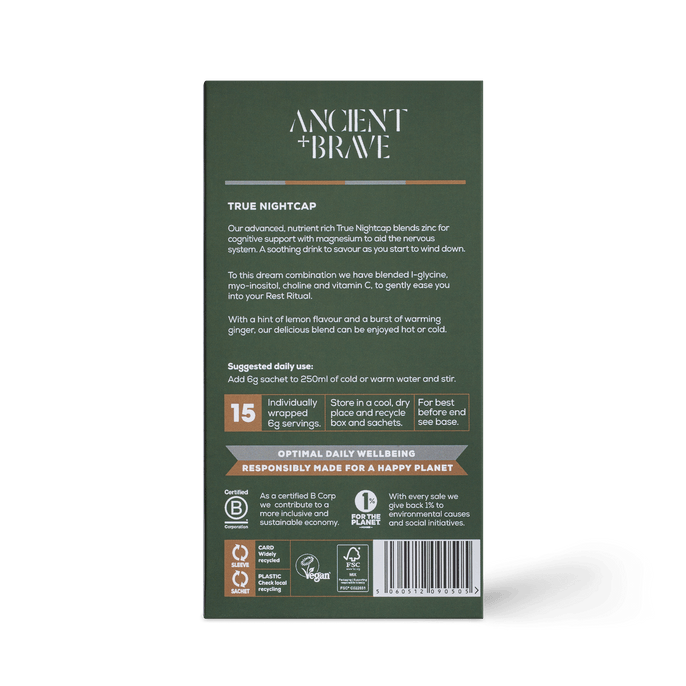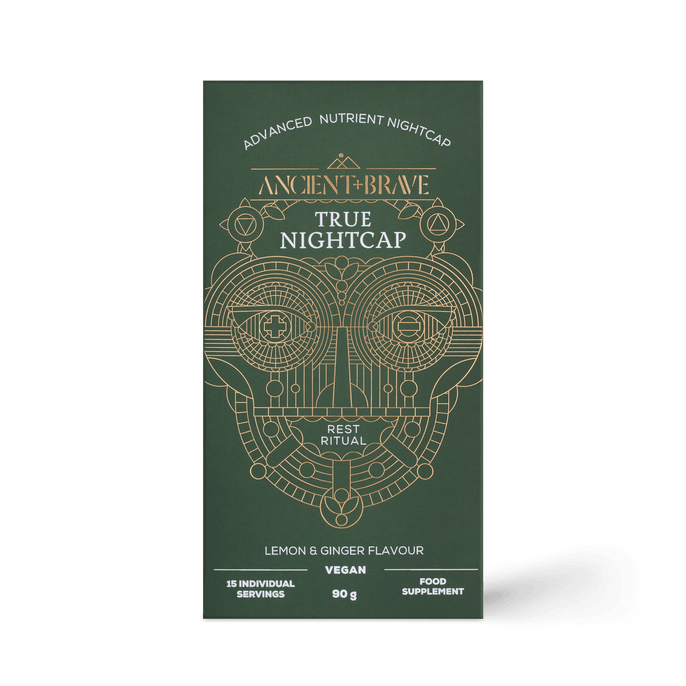 For every purchase you make we donate 1% for the Planet
---
True Nightcap Sachets
Ingredients & Nutritionals
Ingredients
L-glycine
Magnesium Citrate*
Aquasol Ginger root powder
Myo-inositol
Citric Acid
Vitamin C (magnesium ascorbate)
Lemon Flavouring
Choline Bitartrate
Zinc Citrate
---
*derived from a natural mineral source of marine origin
Suitable for vegans or vegetarians
Nutrition
| Nutrition | per 100g | per 6g |
| --- | --- | --- |
| ENERGY | 355 | 21.0 |
| FAT | 0.7 | 0.0 |
| of which saturates | 0.36 | 0.0 |
| monounsaturates | 0.18 | 0.0 |
| polyunsaturates | 0.13 | 0.0 |
| CARBOHYDRATES | 48.5 | 2.9 |
| of which sugar | 1 | 0.1 |
| FIBRE | 4.7 | 0.3 |
| PROTEIN | 41.1 | 2.5 |
| SALT | 0.05 | 0.0 |
Free UK delivery on subscriptions orders
Benefits of True Nightcap Sachets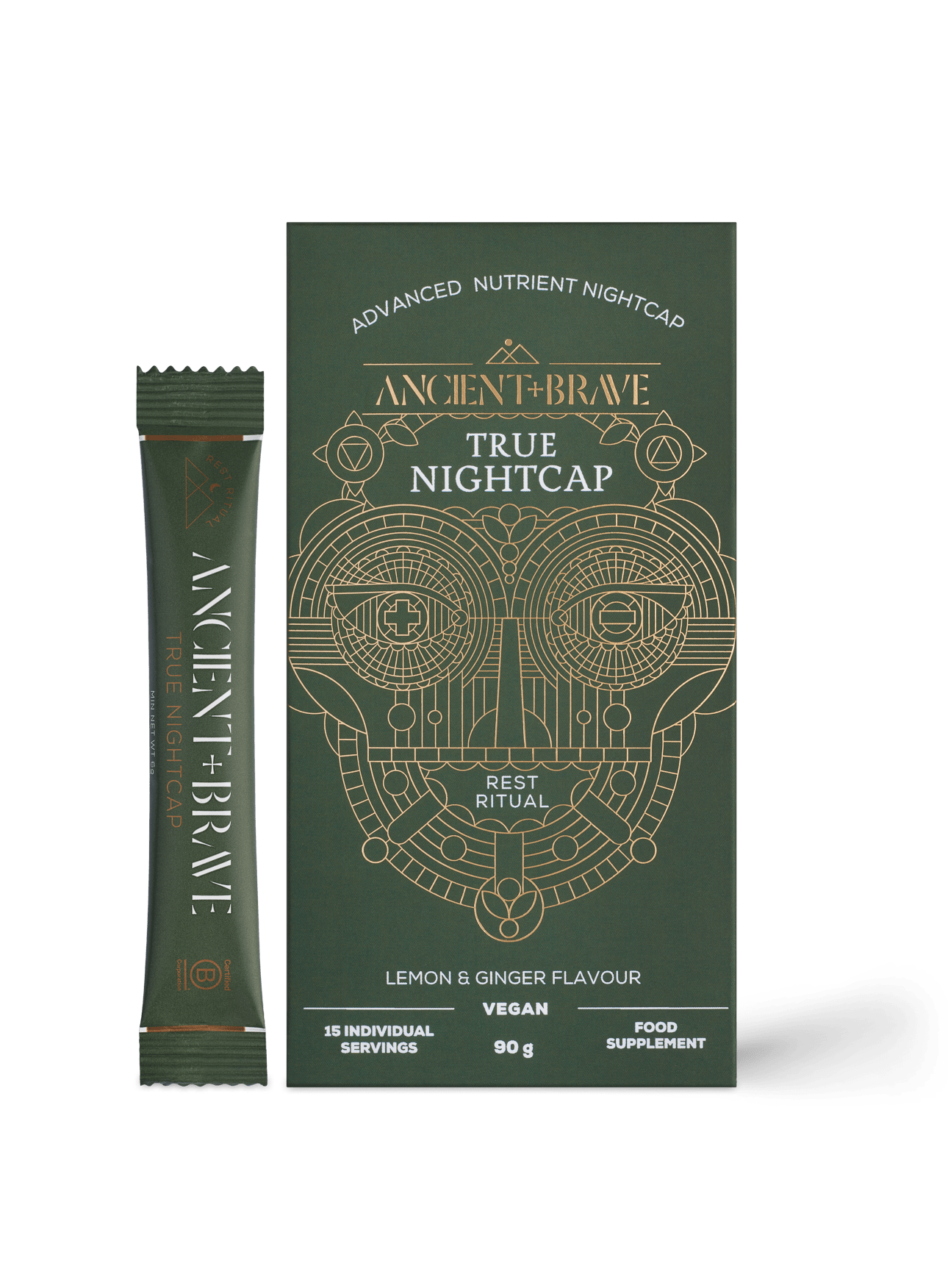 Normal cognitive function.
Normal functioning of the nervous system.
Choline is essential for the functioning of the circadian rhythm.
L-Glycine improves sleep quality.
Zinc and vitamin C increase both sleep amount and quality.
Magnesium maintains levels of GABA, sleep promoting neurotransmitter
Marine magnesium
Few compounds are more important to overall health than the mineral magnesium. Magnesium is essential for human health and optimal function. It's involved in over 700 enzymatic reactions, energy production, nerve function and glucose regulation, plays an important role in bone & muscle health and is required to synthesize DNA and RNA —the building blocks of life. Yet many studies show that the majority of the population don't get enough of this crucial nutrient. Our Magnesium citrate is derived from a natural mineral source of marine origin and crucially is a soluble highly bioactive source of magnesium, easily absorbed and pure.
You can find this multifunctional marine Magnesium in our True Hydration. and True Nightcap formulations.
Ginger root powder
Native to south-east Asia, ginger has been used a powerful botanical in Ayurvedic medicine for years.
The health benefits of ginger are mainly attributed to a natural compound called gingerols present in the oily resin found in the root.
Ginger is also helpful for easing nausea associated with travel and morning sickness and it bring a gentle level of chilli style heat to our Inspired Collagyn.
Ginger also delivers a beautiful complex aromatic flavour that compliments cinnamon, cardamom, turmeric and black pepper in our Inspired Collagyn.
Myo-Inositol
Sometimes referred to as Vitamin B8, this simple compound is quickly broken down to be used as an energy source in the body without causing a spike in blood sugar. Inositol is essential in the process of building cell membranes and is a "secondary messenger" in your central nervous system, known to increase the impact of neurotransmitters in your brain supporting mood health. Myo-inositol is also studied for increasing insulin sensitivity, supporting our bodies natural energy balance and has been shown to impact circadian rhythms which may help to regulate sleep.
Find this intelligent compound in our True Nightcap formulation.
Vitamin C
Not all vitamin C's are created equal. The most common version of vitamin C, called ascorbic acid, has a very low absorption rate and often triggers digestive disturbance.
So we formulate our products with a gentle on the gut, buffered form of vitamin C called magnesium ascorbate which has far superior absorption than standard ascorbic acid.
Magnesium ascorbate is one of our most important ingredients in terms of health benefits, daily wellbeing, collagen renewal and supporting skin cell protection.
You can find a generous 250mg (280% of your daily recommended dose) in each serving of our Naked Collagyn and Radiant Collagyn.
Choline
Similar to vitamin D, a nutrient called choline is hard to obtain through a plant-based diet which is why many health organisations are promoting vegan awareness for the risk of choline deficiency.
Studies indicate that this nutrient is important for neurotransmitter balance, cardiovascular health and the maintenance of normal liver function.
To help support daily wellbeing for those of you following a plant-based diet we've included a form of vegan choline (L-Choline Bitartrate) in our Naked Collagyn and Radiant Collagyn.
Zinc Citrate
Best known for supporting immune health, this essential mineral is needed to perform hundreds of important functions in the body. From helping with hormone production, growth and repair, improved immunity, and normal digestion, zinc is the second-most-abundant trace mineral in the human body. Our zinc citrate is a well absorbed, highly bioavailable form.
You can find our highly bioavailable Zinc Citrate in our True Nightcap and newly formulated Radiant blend.
Your Method
Add 6g of True Nightcap powder to 250ml of cold or warm water and stir.
Other products you may enjoy:
FAQs
WHAT IS TRUE NIGHTCAP?
True Nightcap is an innovative and nutrient dense evening drink designed to promote restorative and rejuvenating sleep. It has a subtle lemon and warming ginger flavour - both chosen to help your body rest and repair overnight.
CAN I DRINK THIS PRODUCT IN THE MORNING OR JUST THE EVENING ?
Whilst we recommend this product as part of your Rest Ritual as it promotes calm and restorative sleep, it can be enjoyed at any time of the day.
CAN I DRINK THIS COLD AS WELL AS HOT?
This is a refreshing and calming drink that can be enjoyed both hot and cold. If enjoying this drink hot, we recommend that you use hot water and not boiling straight from the kettle.
DOES THIS PRODUCT CONTAIN COLLAGEN?
No, this is part of our vegan and collagen free range.
CAN I TAKE THIS PRODUCT ALONGSIDE OTHER ANCIENT + BRAVE PRODUCTS?
Absolutely. We recommend enjoying this product alongside any of our collagen products of your choice.
IS THIS PRODUCT SUITABLE FOR VEGETARIANS OR VEGANS?
Yes, this is a vegetarian and vegan friendly product.
IS THIS PRODUCT SUITABLE FOR BREASTFEEDING OR PREGNANT WOMEN?
You should always consult your doctor or midwife regarding any new additions to your diet or supplements you take during your pregnancy and breastfeeding journey. Whilst there are little studies currently available due to ethical challenges involving research in pregnant people, we aren't aware of contraindications in taking this product whilst pregnant or breastfeeding and they should be well tolerated. One consideration is ginger, although this product contains a moderate amount, high doses are not recommended and therefore consider this in your daily intake of ginger.  
Nutrition
Energy
Fat
of which saturates
Carbohydrate
of which sugars
Fibre
Protein
Salt
Vitamin C
Magnesium
Zinc
L-glycine
Choline
Per 100g

1507kJ / 355kcal
0.7g
0.4g
49g
1.0g
4.7g
41g
0.05g
3942mg
2180mg
220mg
33333mg
1367mg
Per 6g serving

90kJ / 21kcal
0g
0g
2.9g
0.1g
0.3g
2.5g
0g
237mg
130mg
13mg
2000mg
82mg
Ingredients
L-glycine
Magnesium Citrate*
Aquasol Ginger root powder
Myo-inositol
Citric Acid
Vitamin C (magnesium ascorbate)
Lemon Flavouring
Choline Bitartrate
Zinc Citrate

*derived from a natural mineral source of marine origin
---
Suitable for vegans or vegetarians
Shipping
Delivery Costs
UK 
Free
Free shipping for all UK orders. Products are sent by our delivery partner Royal Mail 48 Hour Tracked. 

£4.95
For next day delivery on orders placed before 1pm, select Royal Mail 24 Hour Tracked. 
Europe 
For orders to the EU please visit ancientandbrave.com
USA and Canada
For orders over £180, delivery is free.
For orders under £180, delivery is £21. 
Please allow up to 14 working days for delivery via our partner DPD.
Rest of the World 
We are currently able to deliver to Australia, New Zealand and Japan.
For orders over £250, delivery is free.
For orders under £250, delivery is £29.  
Please allow 7-10 working days for delivery via our partner DPD 
Philippines
Please visit ancientandbrave.ph
Saudia Arabia, Kuwait, the United Arab Emirates, Qatar, Bahrain and Oman 
Please visit beauth.me 
How subscriptions work
Products are automatically delivered on your schedule. No obligation, modify or cancel your subscription anytime.
Learn More