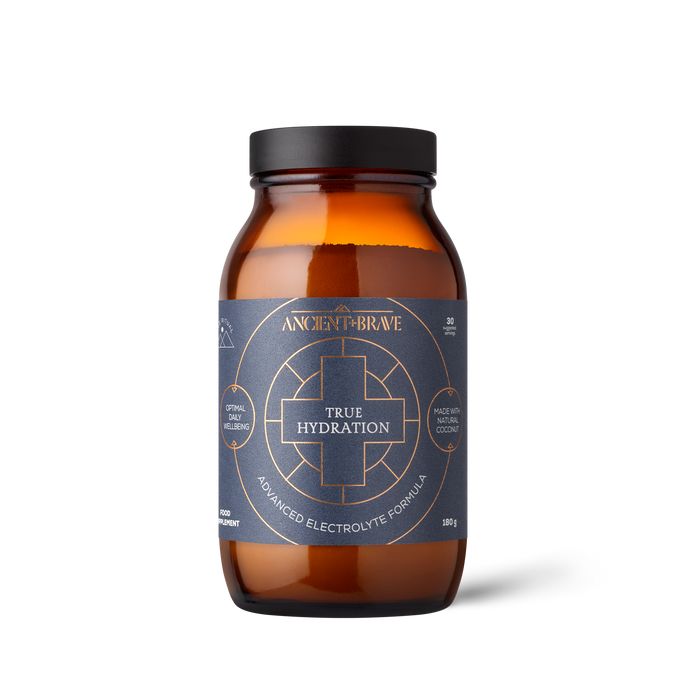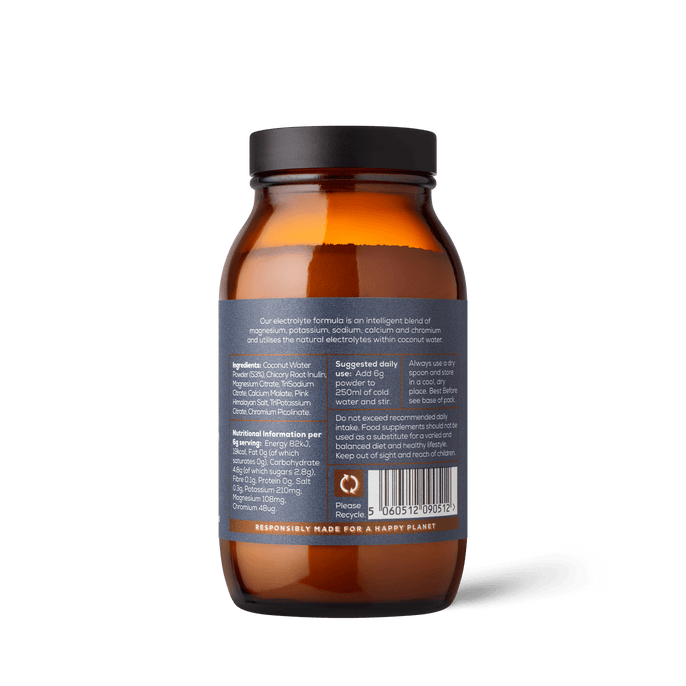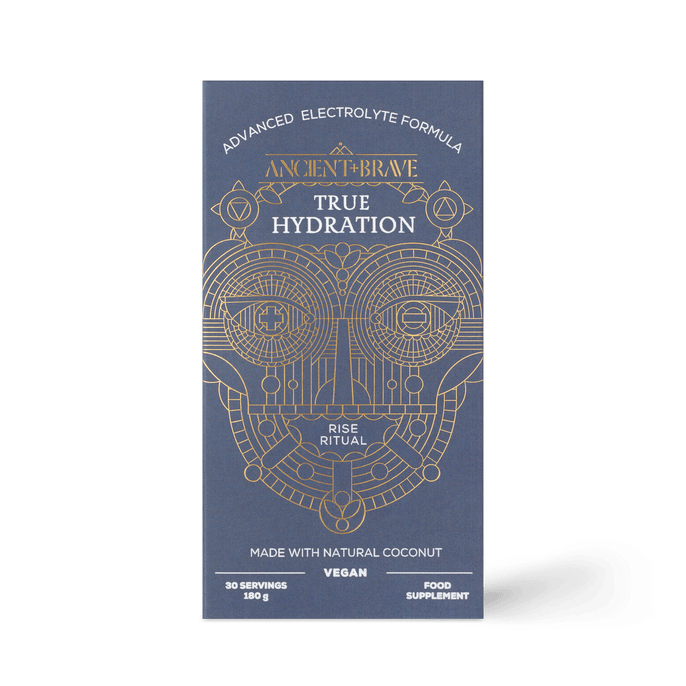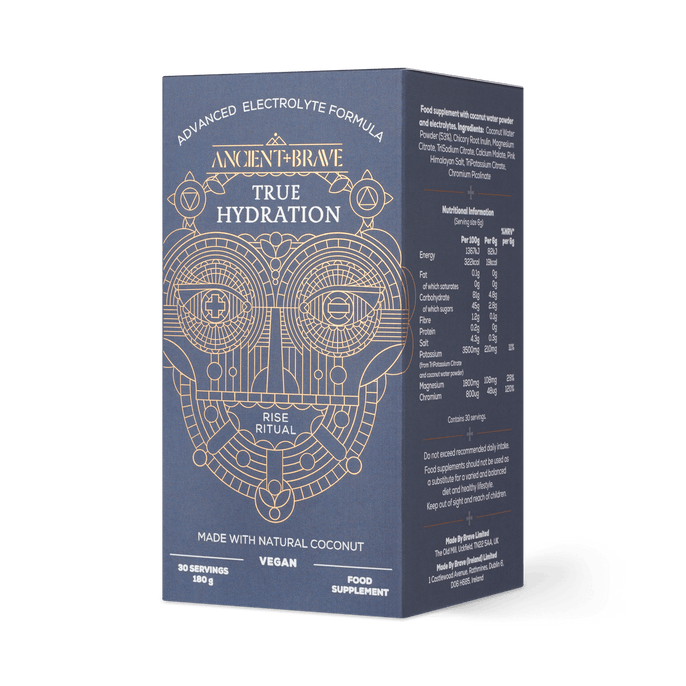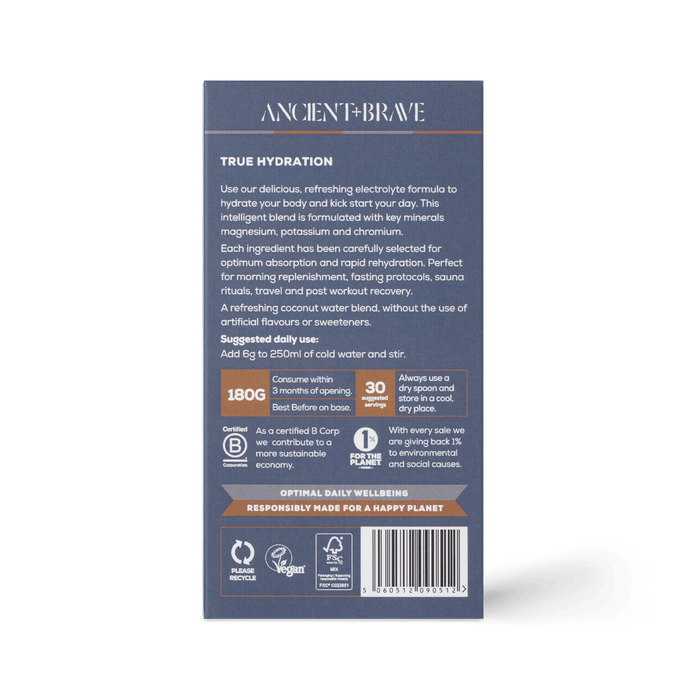 For every purchase you make we donate 1% for the Planet and an additional 1% to our chosen community charities
---
True Hydration
Ingredients & Nutritionals
Ingredients
Coconut Water Powder
Chicory Root Inulin
Magnesium Citrate*
TriSodium Citrate
Calcium Malate
Pink Himalayan Salt
TriPotassium Citrate
Chromium Picolinate
---
*derived from a natural mineral source of marine origin
Suitable for vegans or vegetarians
Nutrition
| | per 100g | per 6g |
| --- | --- | --- |
| ENERGY | 322 | 19.0 |
| FAT | 0.1 | 0.0 |
| of which saturates | 0.02 | 0.0 |
| monounsaturates | 0.06 | 0.0 |
| polyunsaturates | 0.02 | 0.0 |
| CARBOHYDRATES | 80.6 | 4.8 |
| of which sugar | 44.5 | 2.8 |
| FIBRE | 1.2 | 0.1 |
| PROTEIN | 0.18 | 0.0 |
| SALT | 4.26 | 0.3 |
Free UK delivery on subscriptions orders
Benefits of True Hydration
Hydrates the skin from within.
Replenishes key electrolytes for deep replenishment.
Improves recovery, mental clarity and performance.
Magnesium for the reduction of tiredness and fatigue.
Rich in prebiotic fibre to support a balanced digestive system.
Perfect for travel, sauna and morning rehydration rituals.
Your Method
When used as part of your Rise Ritual, add 6g to 250ml fresh water, stir and enjoy. You can also add this formula to your water bottle to keep you hydrated across the day.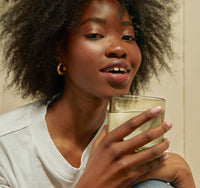 Other products you may enjoy:
FAQs
HOW DO I KNOW IF I'M LOW ON ELECTROLYTES?
Dehydration is the first sign your body could be low on electrolytes. There are many symptoms from brain fog, lethargy, constipation and more. Every organ in your body needs them, so the symptoms can be vast. You can also check the color of your urine, it should be clear vs dark yellow. 
Electrolytes are often lost through sweat or when other issues throw the balance off. In these times, using electrolytes as we drink water can be supportive and restorative. 
WHY DOES MY BODY NEED ELECTROLYTES?
As we know, hydration is vital for overall health and wellbeing. Hydration impacts everything from our brain function, energy, skin health, digestion and muscle health. Normally when people mention 'hydration' the first thing you think of is drinking more water. But true hydration requires water and electrolytes.
Electrolytes contain minerals that are responsible for 1000's of processes in the body. Every single cell in our body depends on minerals to function properly. One of the jobs of these minerals is for cellular hydration by supporting fluid balance. Electrolytes are simply minerals which are charged and conduct electrical impulses which your body needs for many processes such as powering your nervous system, muscles and maintaining stable PH levels.
CAN I DRINK TRUE HYDRATION EVERYDAY?
Yes, absolutely and we would encourage you to as part of your morning hydration ritual, post-sauna, during or post workout and when traveling e.g. flights
SHOULD I HAVE TRUE HYDRATION WITH EVERY GLASS OF WATER I DRINK?
No, it is not necessary to drink electrolytes with every glass - once a day will be enough or if you are losing sweat (hot weather, sauna e.g.) then twice 
CAN I TAKE OTHER ANCIENT + BRAVE PRODUCTS ALONGSIDE TRUE HYDRATION?
Absolutely, True Hydration is the perfect partner to any of our products
IS THIS PRODUCT SUITABLE FOR BREASTFEEDING OR PREGNANT WOMEN?
Yes, this product is suitable for breastfeeding or pregnant women and would be a great way to replenish lost minerals and boost hydration. We always advise anyone pregnant or breastfeeding to make their midwife or GP aware of any supplements they are using.
Nutrition
Energy
Fat
of which saturates
Carbohydrate
of which sugars
Fibre
Protein
Salt
Potassium (from TriPotassium Citrate and coconut water powder)
Magnesium
Chromium
Per 100g

1367kJ / 322kcal
0.1g
0g
81g
45g
1.2g
0.2g
4.3g
3500mg
 
1800mg
800ug
Per 6g serving

82kJ / 19kcal
0g
0g
4.8g
2.8g
0.1g
0g
0.3g
210mg
 
108mg
48ug
Ingredients
Coconut Water Powder
Chicory Root Inulin
Magnesium Citrate*
TriSodium Citrate
Calcium Malate
Pink Himalayan Salt
TriPotassium Citrate
Chromium Picolinate

*derived from a natural mineral source of marine origin
---
Suitable for vegans or vegetarians
Shipping
When Will My Order Be Shipped?
We're currently receiving more orders than ever before - we're so grateful for you bearing with us whilst we get these sent out as quickly as possible. Currently this is within 3 - 5 working days. We promise that our products are worth the wait and thank you for your patience. 
Orders will be delivered in our bespoke Ancient + Brave packaging. We consider environmental sustainability in every aspect of our packaging and choose recycled and recyclable whenever possible – because all packaging deserves a second chance. Our FSC grade boxes and tubs are sourced from materials that meet strict standards to protect forests, animals and the people who depend on them.
Delivery Costs
UK 
Free shipping for all UK orders above £40 and all UK subscriptions.
Products are sent by our delivery partner Royal Mail 48 Hour Tracked. 
Europe 
For orders to the EU please visit ancientandbrave.com
USA and Canada
For orders over £180, delivery is free.
For orders under £180, delivery is £21. 
Please allow up to 14 working days for delivery via our partner DPD.
Rest of the World 
We are currently able to deliver to Australia, New Zealand and Japan.
For orders over £250, delivery is free.
For orders under £250, delivery is £29.  
Please allow 7-10 working days for delivery via our partner DPD 
Philippines
Please visit ancientandbrave.ph
Saudia Arabia, Kuwait, the United Arab Emirates, Qatar, Bahrain and Oman 
Please visit beauth.me 
How subscriptions work
Products are automatically delivered on your schedule. No obligation, modify or cancel your subscription anytime.
Learn More