The Brave Method
Make your wellness strategy work for you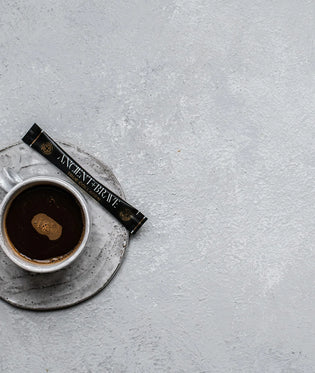 The Brave Method
Helps you feel, think and look your best
What are your goals?
While many wellness strategies leave you feeling tired, hungry and sluggish, our Brave Method has you covered…
By using our products throughout the day you benefit from key nutrition and sustenance when you need it most. The Brave Method helps you smoothly overcome motivational pitfalls, side-step progress plateaus, support energy and metabolism to easily achieve your goals.
All wellness strategies - from healthy eating plans, low carb diets and paleo, to intermittent fasting, ketogenic diets and biohacking - have their own set of guidelines, benefits and daily challenges.

The Brave Method cleverly works alongside many of these wellness strategies often making the experience more achievable and empowering.
Our products have been formulated to support you whichever method you choose to optimise your health. Check our Brave Nutrition Table.
The Brave Recipe
One Serving
2 Scoops of Coffee + Collagen
or 2 Scoops of Cacao + Collagen
Add 250ml hot filtered water
Our coffee is finely ground, so make using a cafetière.
Keto Synergy
Add 1 to 2 tsp of True MCT
For an enhanced keto coffee add 1 tsp of grass-fed butter, to your blend for an extra creamy brew
Totally Delicious
Blend for 5 secs until smooth and creamy. Enjoy
Make any time of day
Try a 14 Hour Fast
Eat your last meal at 7pm...
Enjoy a restful nights sleep...
Wake up and make a Brave brew...
Eat your next meal at 9am...
Fasting Strategies
Like you, we're passionate about fasting strategies that allow our bodies to naturally rejuvenate.
One fast doesn't fit all - so always go with what works for you..
For an extra layer of confidence, use our Brave Nutrition Table for details of calories, carbohydrates, sugar and fats to instantly check which products fit within the guidelines of your chosen strategy.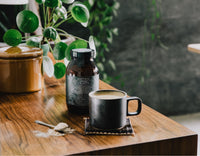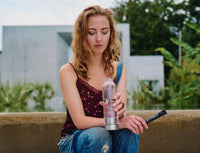 Fasting and Refueling
As a general guide, fasting is a lot easier than you think and most of us are doing it already. If you eat your last meal by 7pm, and you don't eat again until 7am, you've already done a 12 hour fast – pretty good!
We recommend extending that fasting window for a few hours - 14 to 16 hours is ideal, just 2 to 3 times a week. After your fast, re-wild your wellbeing with the Brave Lifestyle and return to balance with our Brave Wellness tips before beginning your next fast.