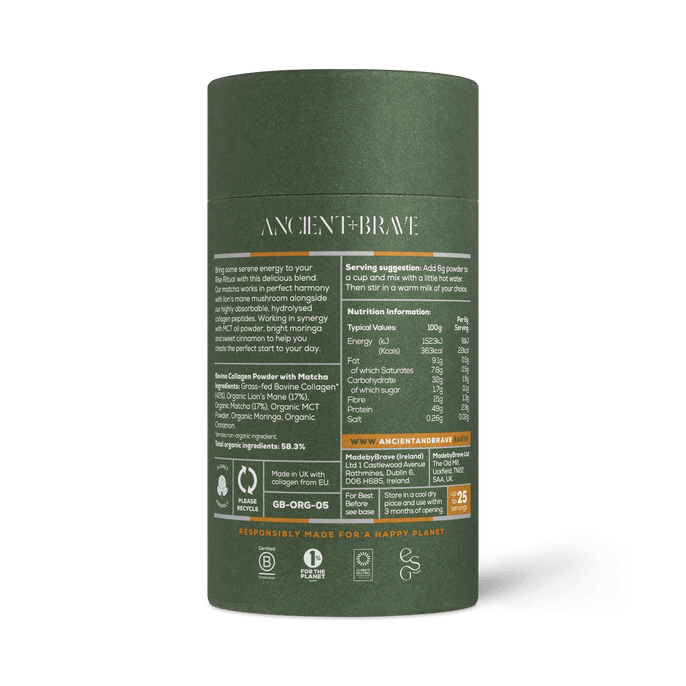 For every purchase you make we donate 1% for the Planet and an additional 1% to our chosen community charities
---
Matcha + Collagen
Ingredients & Nutritionals
Ingredients
Grass-fed Bovine True Collagen*
Organic Lion's Mane
Organic Matcha
Organic MCT Powder
Organic Moringa
Organic Cinnamon
---
*Denotes non-organic ingredient.
Not suitable for vegans or vegetarians
Nutrition
| | per 100g | per 6g |
| --- | --- | --- |
| ENERGY | 363 | 22.0 |
| FAT | 9.1 | 0.5 |
| of which saturates | 7.8 | 0.5 |
| monounsaturates | 0.3 | 0.0 |
| polyunsaturates | 0.6 | 0.0 |
| CARBOHYDRATES | 32.1 | 1.9 |
| of which sugar | 1.7 | 0.1 |
| FIBRE | 21.2 | 1.3 |
| PROTEIN | 48.9 | 2.9 |
| SALT | 0.26 | 0.0 |
Free UK delivery on subscriptions orders
Benefits of Matcha + Collagen
2500mg of nourishing hydrolysed collagen peptides in each serving.
Calming matcha energy and adaptogenic mushroom for focus.
Excellent source of protein to support muscle mass and body conditioning.
Powerful phytonutrients to support radiant skin and collagen renewal.
Cinnamon to support blood sugar balance and metabolism.
A perfect Rise Ritual for mindful wellbeing.
Your Method
Gently energise your morning and focus with our adaptogenic nourishing brew. 
Mix 1 scoop (6g) of Matcha + Collagen with a little hot water into a paste then pour in a milk of your choice to fill your cup for a matcha latte style drink. Alternatively mix with hot water only and a splash of milk if you enjoy a longer drink. 
Blend with 1 tsp of our True MCT oil for a next level brew to help power you through the day
Other products you may enjoy:
FAQs
WHAT IS LIONS MANE AND WHAT ARE ADAPTOGENS?
Adaptogens are herbs and mushrooms that help your body build resilience against the negative effects of stress and anxiety. The benefits are wide ranging and best seen when consumed on a regular basis. Lions Mane is an adaptogenic mushroom which has been shown to improve cognitive function, enhancing focus and mental clarity.
WHAT TYPE OF COLLAGEN IS IN MATCHA + COLLAGEN?
We have combined our highly absorbable hydrolysed True Collagen to this beautiful Matcha + Collagen blend. Each serving will contain 2500mg of sustainably sourced grass-fed bovine Type 1 collagen peptides from the EU. 
IS THIS PRODUCT SUITABLE FOR VEGETARIANS OR VEGANS?
This product contains our bovine rich True Collagen which is not suitable for vegetarians or vegans. To support your collagen needs on a plant based diet,  we would recommend one of our amazing alternative collagen products - Radiant Collagyn & Naked Collagyn.
WHEN SHOULD I DRINK THIS PRODUCT?
We recommend Matcha + Collagen as part of your morning ritual.
Mix 1 scoop (6g) of Matcha + Collagen with a little hot water (not boiling) into a paste then pour in a milk of your choice to fill your cup for a matcha latte style drink. Alternatively mix with hot water only and a splash of milk if you enjoy a longer drink. 
WHAT MILK IS SUITABLE TO ADD TO THIS PRODUCT?
This really is down to dietary preference. We love adding our favourite unsweetened plant mylk to Matcha + Collagen but it goes equally as well with full fat, semi or skimmed cow's milk. 
CAN I TAKE OTHER COLLAGEN ALONGSIDE THIS PRODUCT?
Along with the other wonderful ingredients, this product contains 2500mg of our True Collagen per serving. We recommend a daily intake of between 5g and 10g daily of collagen which means incorporating other collagen rich products would make a perfect partnership to this drink. 
IS THIS PRODUCT SUITABLE FOR BREASTFEEDING OR PREGANANT WOMEN?
You should always consult your doctor or midwife regarding any new additions to your diet or supplements you take during your pregnancy and breastfeeding journey. Matcha is a natural source of caffeine and therefore we urge you to be aware of your overall caffeine intake. Lion's Mane has not been extensively studied in pregnancy for safety, due to ethical reasons, and therefore when making your choice this needs to be considered and we urge caution until more information is available. 
DOES THIS PRODUCT CONTAIN CAFFEINE?
As a green tea, Matcha + Collagen contains antioxidant rich caffeine although at lower amounts compared to coffee. Matcha also naturally contains L-Theanine which balances the effect of caffeine and is often better tolerated (no jitters!) 
COULD ADDING MILK/MYLK INTERFERE WITH MY FAST?
Full fat, semi and skimmed cow's milk all contain too many calories to keep you in fast. But if you use unsweetened plant mylk, avoid ones that come fortified with extra protein it shouldn't make a big difference. As a general guideline, keep the total calories (of your brew + mylk) within the 50 kcal limit, so we recommend no more than 50mls of any milk providing the nutrition information states:Under 28 Kcal per 100mlUnder 2.5g of total carbs per 100mlUnder 2.5g sugar per 100mlUnder 0.5g of protein per 100ml
Nutrition
Typical Values:

Energy (kJ / Kcals)
Fat
of which Saturates
Carbohydrate
of which sugar
Fibre
Protein
Salt
Per 100g

1523kJ / 363kcal
9.1g
7.8g
32g
1.7g
21g
49g
0.26g
Per 10g serving

91kJ / 22kcal
0.5g
0.5g
1.9g
0.1g
1.3g
2.9g
0.02g
Ingredients
Grass-fed Bovine True Collagen*
Organic Lion's Mane
Organic Matcha
Organic MCT Powder
Organic Moringa
Organic Cinnamon

*denotes non-organic ingredient
---
Not suitable for vegans or vegetarians
Shipping
When Will My Order Be Shipped?
We're currently receiving more orders than ever before - we're so grateful for you bearing with us whilst we get these sent out as quickly as possible. Currently this is within 3 - 5 working days. We promise that our products are worth the wait and thank you for your patience. 
Orders will be delivered in our bespoke Ancient + Brave packaging. We consider environmental sustainability in every aspect of our packaging and choose recycled and recyclable whenever possible – because all packaging deserves a second chance. Our FSC grade boxes and tubs are sourced from materials that meet strict standards to protect forests, animals and the people who depend on them.
Delivery Costs
UK 
Free shipping for all UK orders above £40 and all UK subscriptions.
Products are sent by our delivery partner Royal Mail 48 Hour Tracked. 
Europe 
For orders to the EU please visit ancientandbrave.com
USA and Canada
For orders over £180, delivery is free.
For orders under £180, delivery is £21. 
Please allow up to 14 working days for delivery via our partner DPD.
Rest of the World 
We are currently able to deliver to Australia, New Zealand and Japan.
For orders over £250, delivery is free.
For orders under £250, delivery is £29.  
Please allow 7-10 working days for delivery via our partner DPD 
Philippines
Please visit ancientandbrave.ph
Saudia Arabia, Kuwait, the United Arab Emirates, Qatar, Bahrain and Oman 
Please visit beauth.me 
How subscriptions work
Products are automatically delivered on your schedule. No obligation, modify or cancel your subscription anytime.
Learn More