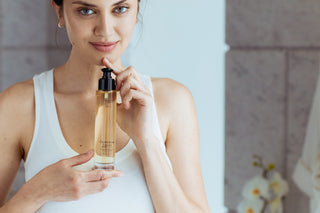 Inside Out: Holistic Body Therapy for Sustained Skin Health.
Every so often, in a noisy world filled with inauthenticity and superficiality, you cross paths with a brand that aligns with your passions of transparency, intention and meticulous attention to detail.
You may not know us, perhaps you haven't yet had an opportunity to lose yourself in an Olverum moment, so let us give you a little insight into who we are and why we feel we are perfectly placed to swap stories with you, the Ancient + Brave community.
A little about us
At the heart of our high-performance botanical therapies, is a promise; to restore your essential you. Every product is consciously created with the utmost regard for what is ethical, sustainable and purposeful. We leave out what has no place and choose only ingredients that deliver exemplary results in skin improvement and restorative self-care. 
We pride ourselves on our unrelenting commitment to quality, efficacy and experience. Our products are powered by nature and finessed by science.
We are immensely proud of our 90-year heritage that rests on the origins of a single product, a family secret grounded in creativity for purpose and effect, without financial constraint. Our iconic Bath Oil remains core to our brand and relatively little about it has changed since original creation, the intention behind that formative development has devised the blueprint for how we approach our collection today, selecting naturally derived extracts, sensitively source with proven efficacy and scientific interest, working in sync with our natural biology to optimise their holistic impact.
Today, we exist in a society where information is instant yet often misinformed, where we fluctuate between proclamations of body confidence and inclusion - to crippling anxiety and low self-esteem, where 24hour communication system means we can feel overwhelmed with the continual pressure of messaging, the irony of connection and inherent isolation.
It is in the midst of this, that we offer a place of reassurance, knowledge, trust; restoring that sense of centred-self. We are for all bodies and everybody.
With respect.
You are amazing. But, are you kind to yourself?
How often do you find yourself checking your reflection to scrutinise, criticise and disregard the utter wonder that is your unique biology, your body? Our inner dialogue can be deafeningly negative.
We forget what our body does for us every day and over time. It battles our disrespect, rights our wrongs, carries us relentlessly, it stretches and shrinks, navigates exercise and nutritional inconsistency; all the while protecting us from the onslaught of life, questionable choices and the impact of a changing world.
Yet, we fixate on our wobbly bits.
While we can't change everything, we, like Ancient & Brave; recognise that self-esteem is partially connected to our relationship with our bodies, both in reflection and in how we feel moving through the day. As the years pass, biological shifts are inevitable and affect our equilibrium. That is something we can support you with.
As a collagen customer, you understand the importance of this essential structural protein to your biological resilience. For women, one of the most significant impacts to skin health, strength and self-esteem, is the onset of perimenopause when oestrogen, cell turnover, collagen and elastin all start to decline affecting the volume, hydration and bounce of skin.
This is a time to invest in holistic wellbeing to face the negative head on and define a new narrative.
Be kind to yourself
There is comfort and wellbeing in creating mindful rituals of self-care that deliver nourishment to your body and stillness to your mind. Moving your hands across your skin in a patterned, rhythmic way, concentrating on your breathing helps stimulate the olfactory system to establish positive associations.
As we enter this new phase of our biology it is important to stimulate micro-circulation through massage and exfoliation, encouraging the flow of nutrients, boosting natural lymphatic drainage to ease toxin build up and help kick start cellular renewal. This, combined with potent bioactive ingredients, helps organise and strengthen protein fibres and trigger fibroblasts to optimise collagen formation.
Be kind to our world
Feeling good about yourself and nourishing your skin health, does not have to cost the earth. Literally.
We go to great lengths to select ingredients that are responsibly and respectfully harvested, minimising our footprint in the world by upcycling ingredients that would otherwise be waste and replenishing resources for future benefit, without compromising efficacy and potency.
Our skin firming specialist treatment Body Polish features sustainably sourced partnership of ingredients:
Papaya - rich in papain, an enzyme that helps dissolves surface skin clutter, extracted from unused residual fruit pulp, along with the intact chaperone proteins, which help increase stability and maximise shelf life.
Bamboo – an effective exfoliant derived from fast-growing afforestation bamboo that is helping amplify oxygen release (35% more than the forest on average).
Our Firming Body Moisturiser and Firming Body Oil are not only beautifully sensorial in application, delivering instant skin smoothing and healthy glow, but below the surface a synergistic partnership of respectfully help organise, tighten and preserve collagen.
Paracress – a plant extract originating in South America has been shown to help preserve skin suppleness and elasticity by reducing collagenase and elastase (the enzymes that breakdown collagen and elastin), it contains spilanthol which helps mimic the effects of muscle relaxation to smooth expression lines.
Alaria Esculenta – brown algae extract that that is found in cold coastal waters, is clinically shown to help organise, tighten and maintain the integrity of collagen fibres as well as slow dehydration and build strength in the skin structure.
Skin strength, physical wellbeing and mental positivity, we can help…but ultimately, it's an inside job.
Seeing the restorative power of potent natural ingredients in skin becoming more supple and luminous, with the transformative power of Ancient + Brave Collagen give you control, helping inner confidence return. Knowing the products you choose are created with conscience means you'll keep doing it!