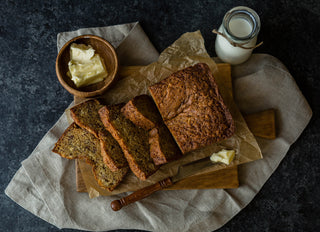 Cooking with MCT Oil - recipe ideas for everyday
Whether you're already hooked or you're just getting started with MCT oil, it can be tricky to know how to incorporate it into your daily routine.
This metabolic oil is a potent, clean fuel for the body and here at Ancient + Brave we're passionate advocates for its many health benefits.
Taking just a teaspoon a day can contribute towards the following positive upgrades in your wellbeing;
Supports steady energy levels;

Contributes to improved mental cognition and clarity;

Supports a healthy metabolism;

Activates the body to burn fat for fuel;

Supports nutritional ketosis.



To

find out more about the science behind why MCT is such a nutritional powerhouse, check out our blog post

here
MCT is perfect in salad dressings, mayonnaise, bone broth, soups, smoothies and in baked goods.  Here are some simple swaps in the kitchen using our True MCT that will go a long way...


Beautiful image by @donnacrous


COOKING WITH MCT OIL

Blend it:

Add MCT to your morning smoothie, yoghurt, coffee or tea. It makes a perfect base for salad dressings

Drizzle it:

Adding small amounts of MCT to any food will add some healthy fats and enhance the flavour. Try it drizzled over your porridge, soup, dips or roasted veggies

Replace other oils:

Do you have a recipe that calls for vegetable, avocado, coconut or olive oil? Substitute with MCT oil! 

MCT oil can be used for low to mid temperature cooking:

The smoke point of MCT oil is 160C/ 

320°F

– higher temperatures will start to damage the fats, making the powers of MCT oil less potent
REASONS TO PREPARE FOOD WITH MCT OIL

MCT oil is flavourless & odourless: 

Even though our MCT is sourced 100% from coconuts, it's neutral flavour profile works in any dish

It's a nutrient dense food source

that will keep you full and energised for hours

MCT oil doesn't become rancid or degrade quickly

, unlike other oils.

If stored properly, a bottle might last for years without a noticeable difference in taste

No melting required: 

MCT oil won't turn solid at room temperature or in the fridge, so you never have to melt it before using it in a recipe
To showcase its versatility, we've put together some easy recipes to help you find new and delicious ways to get the goodness of MCT into your diet every day. All of the following recipes are gluten, dairy and refined sugar-free and are made with simple, store cupboard ingredients. 


Keto Green Goddess Salad Dressing with MCT
This creamy, indulgent dressing makes anything you put it on taste better and packs a powerful nutritional punch. Recipe courtesy of @mynaturalforce
Ingredients
1 large avocado
½ cup extra virgin olive oil
1/3 cup roughly chopped parsley
¼ cup apple cider vinegar
2-3 cloves of garlic
3 tbsp of fresh lemon juice
2 tbsp True MCT
¼ tsp sea salt
Pinch of pepper
Method
Combine all ingredients in a food processor or high-powered blender.
Blend on high until smooth and creamy.
Keep stored in an airtight container in the fridge for up to one week.


Supercharged MCT Mayonnaise
Ingredients
1 egg
2 tbsp apple cider vinegar/lemon juice
1 tsp salt
Seasonings of your choice (garlic, herbs, lemon zest)
½ cup olive oil
½ cup True MCT
Method
Place the first four ingredients into a blender and blitz on high for 1 minute, until frothy.
Reduce speed to medium and begin to (slowly!) pour in oil, beginning with olive oil, then moving to MCT oil. The combination of oils helps the mayo emulsify better than if you just used MCT. The slower you go with adding the oils, the better the mayo will turn out.
Transfer to clean jar, cover and store in the fridge.


Lean Green Pistou
A vegan version of pesto from the south of France. Use as a marinade, or mix into cooked grains and pasta. Add an extra tablespoon of MCT to make a looser, pistou-style dressing and swirl on top of your soup.
Ingredients
2 cups of fresh basil
2 cloves of garlic
¼ cup sunflower seeds
2 tbsp True MCT
½ cup extra virgin olive oil (pour sparingly as you may not need the full ½ cup)
Salt and ground pepper to taste
Method
Using a food processor or blender, combine basil, pine nuts, salt, pepper, and garlic. 
Slowly add the MCT and olive oil.
Pour a small amount then blend and repeat until the desired consistency is reached.


Banana Bread with Collagen and MCT Oil
Everyone loves Banana bread and this one is a current favourite in the A + B office. Recipe by the amazing @marieguerlain
Ingredients
4 very ripe bananas

4 eggs
1/2 cup of coconut flour
1/2 cup of almond butter
4 tbsp
True MCT

1 tbsp
True Collagen

1 tbsp vanilla extract
1 tsp cinnamon
1 tsp bicarbonate of soda
1 tsp of gluten-free baking powder
Pinch of salt
Dark choc chips and chopped walnuts for topping (optional)
Method
Preheat oven to 160C.
Mix the coconut flour, collagen, cinnamon, bicarb, baking powder and salt.
Peel and mash the bananas in a large bowl.
Add the beaten eggs, almond butter, MCT, and vanilla extract and mix well.
Gently fold the dry ingredients into the wet, a little at a time, until incorporated. Pour cake batter into a greased and lined loaf tin.
Top with choc chips/nuts if using.
Bake for 30mins or until cake is cooked through and feels springy to the touch. Leave to cool before slicing.