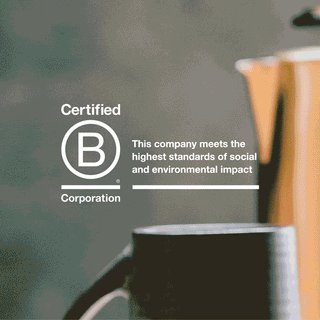 Social and environmental responsibility has been at the heart of our business since its inception.
Becoming a certified B Corp in 2021 was a fundamental part of our journey to measure our overall impact. It represents our steadfast commitment to building a more inclusive and sustainable economy and balance profit and purpose.
We are holding ourselves accountable to the highest standards of third-party verified requirements. So, you know that you are investing in a truly sustainable product and a brand you can trust. 
We are proud to join a community of leaders and a global movement of people using business as a force for good.

Based on the B Impact assessment, Ancient + Brave earned an overall score of 107.3. The median score for ordinary businesses who complete the assessment is currently 50.9.
107.3 Overall B Impact Score
80 Qualifies for B Corp Certification
50.9 Median Score for Ordinary Businesses
Getting to this point has been quite a journey but one that we embraced. B Corps are internationally recognised as businesses that meet the highest standards of verified social and environmental performance, public transparency and legal accountability.
Achieving certification is a rigorous process, requiring full disclosure and documentation across five areas – governance, workers, customers, community and the environment. As part of the B Corp process, we meticulously evaluated every single one of our business practices over a two year period.
To qualify, a business is required to reach a score of 80 – we are delighted that we achieved a score of 107 meaning that Ancient + Brave is the highest scoring wellness brand in Europe.

A Better Future
The standards and verification processes of B Corp are best in class and cleverly work to balance transparency, accountability and inclusivity.
We will continually improve transparency, ethical sourcing, innovations in packaging, and produce the best products whilst doing as little harm to the planet as possible. 
We further commit to undergo verification with B Corp every three years to maintain the highly coveted status. 
We're on a mission and will work harder to reduce our footprint and impact on the planet. We are working on our Impact Report and will share it with you in the near future.