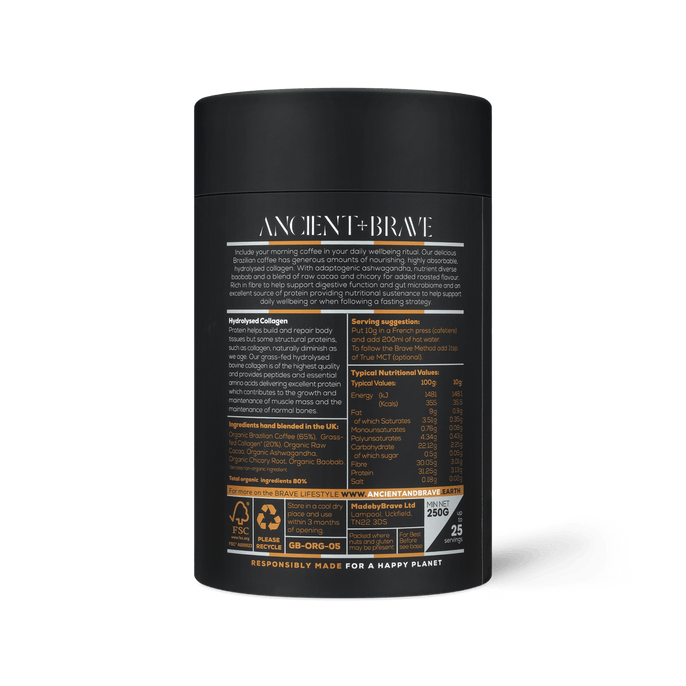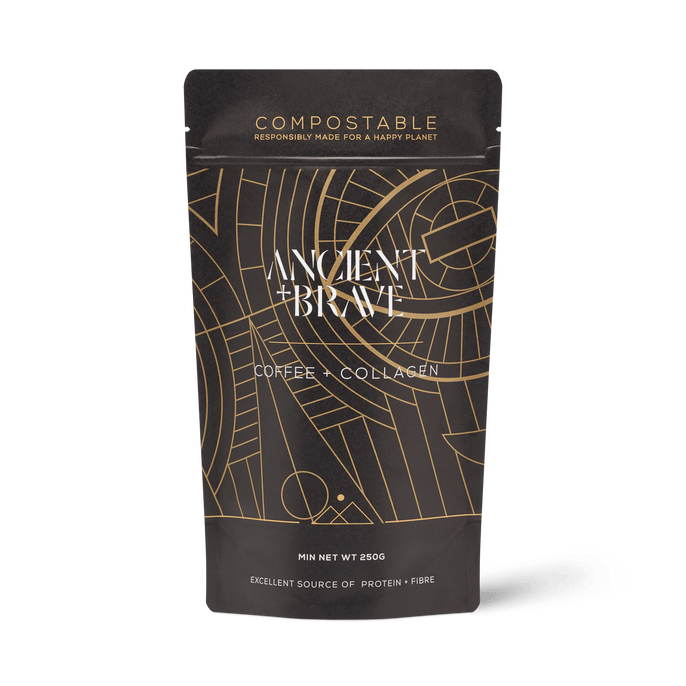 For every purchase you make we donate 1% for the Planet
---
Coffee + Collagen
Ingredients & Nutritionals
Ingredients
Organic Brazilian Coffee*
Grass-fed Bovine Hydrolysed Collagen Peptides
Organic Raw Cacao*
Organic Ashwagandha*
Organic Chicory Root*
Organic Baobab*
---
*All of the organic ingredients are certified by the Soil Association
Not suitable for vegans or vegetarians
Nutrition
| Nutrition | per 100g | per 10g |
| --- | --- | --- |
| ENERGY | 345 | 35 |
| FAT | 10.9 | 1.1 |
| of which saturates | 4.91 | 0.5 |
| monounsaturates | 1.15 | 0.1 |
| polyunsaturates | 4.35 | 0.4 |
| CARBOHYDRATES | 9.2 | 0.9 |
| of which sugar | 1.5 | 0.2 |
| FIBRE | 38.6 | 3.9 |
| PROTEIN | 33.3 | 3.3 |
| SALT | 0.325 | 0 |
Free UK delivery on subscriptions orders
GQ Magazine

"You can have all the Pret filter coffees you like, none will get you in the zone quite as effectively as this blend by Ancient + Brave,"
Rosemary Ferguson

Nutritionist, Journalist, Model

"I love Ancient and Brave. I love the taste - I love the ritual - I LOVE the obvious care and thought that has gone into the products. The ingredients are great and well thought through. I am a big fan!"
Katy Sunnassee

Editor of Top Sante

"These high-quality formulas are the crème de la crème of wellbeing powders"
Louise Bennett

Lifestyle Editor at Heat

"I've been telling all my friends to order Ancient + Brave - I'm an absolute convert!"
Richie Norton

The Strength Temple

"Ancient + Brave has become a daily ritual that has been a game changer. We love it."
The Daily Struggle

"Coffee with added collagen, what more could you want? Add a freshly brewed cup of this deliciously indulgent coffee to your morning wellness ritual and you'll reap the benefits in no time."
"So much more than just coffee - it's the organic botanicals that make this really special."
Jo Woodhurst


Head of Nutrition
Benefits of Coffee + Collagen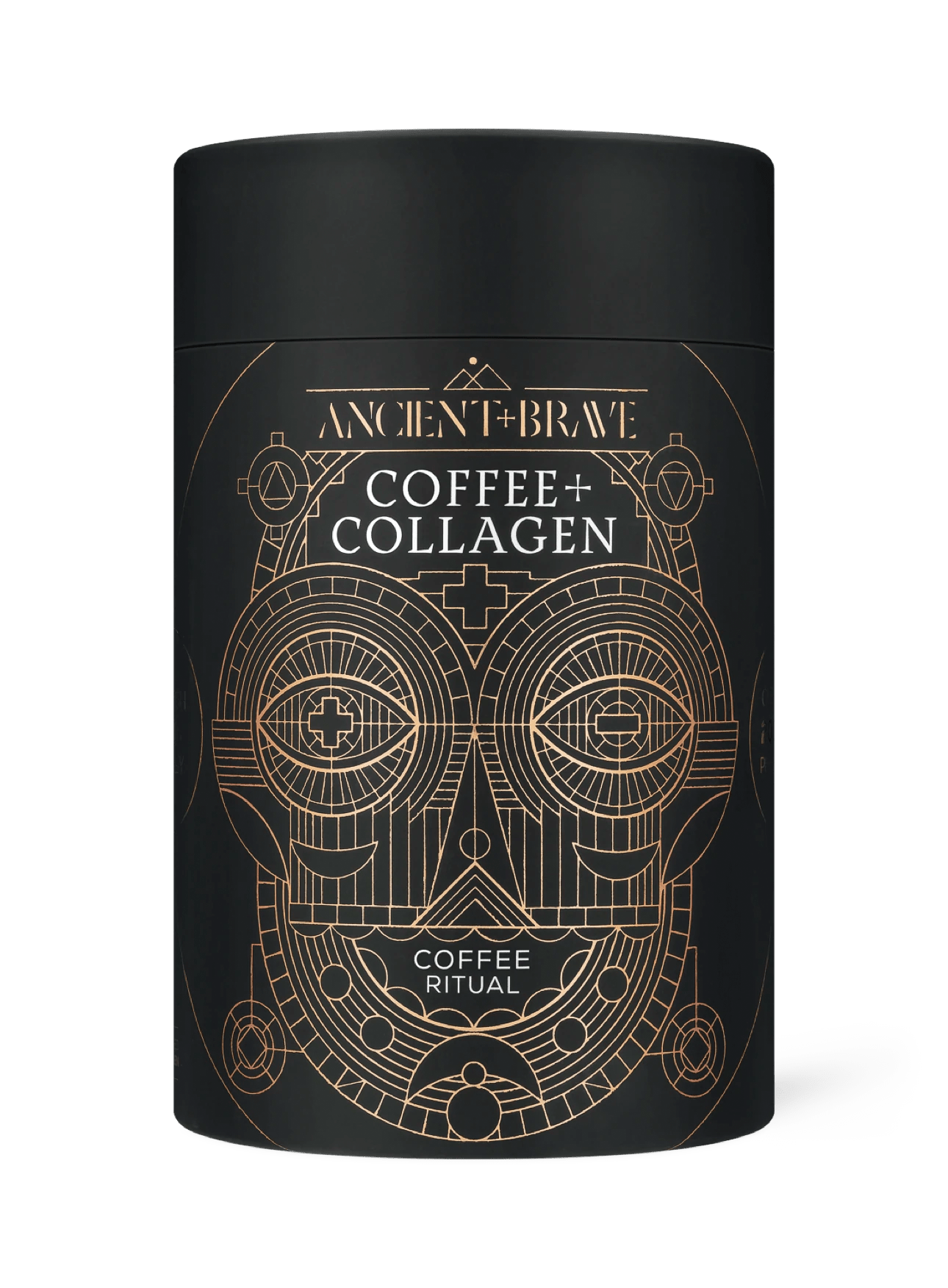 2000mg of nourishing hydrolysed collagen peptides in each serving.
Nootropic natural caffeine and ashwagandha for energy, focus and performance.
Rich in prebiotic fibre to support a balanced digestive system.  
Excellent source of protein to support muscle mass and body conditioning.
Nutritional sustenance to help you easily achieve your fasting window and ketogenic goals.
Delicious with the addition of True MCT for the ultimate bullet experience.
"Caffeine fiends who take their coffee with a little extra kick will surely get a buzz off Ancient + Brave's addition of collagen into the mix. Not only does it make for a damn good cup of coffee, it also boasts raw cacao and ashwagandha for an extra health kick, not forgetting 2000mg of True Collagen per serving for improved digestive health, bones, joints and a glowing complexion."
GQ Magazine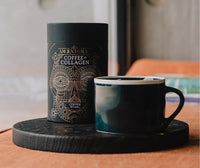 Your Method
Energise your morning and focus on your day ahead with a delicious brew of Coffee + Collagen.  
Mix 2 to 4 scoops (10 to 20g) of Coffee + Collagen into a cafetière with 250ml of hot water.
Blend with 1 tsp of our True MCT oil for a next level ketogenic inspired brew to help power you through the day.
This morning ritual can be enjoyed black, with warmed milk or your favourite plant milk.  To bullet your coffee blend with 1 tsp of True MCT oil for a creamy taste.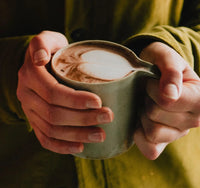 Other products you may enjoy:
FAQs
COULD ADDING MILK OR MYLK TO MY COFFEE + COLLAGEN INTERFERE WITH MY FAST?
Full fat, semi and skimmed cow's milk all contain too many calories to keep you in fast. But if you use an unsweetened plant mylk, avoid ones that come fortified with extra protein and if you're not adding half a cup at a time, then a little plant mylk shouldn't make a big difference. As a general guideline, keep the total calories (of your brew and mylk) within the 50kcal limit, so we recommend no more than 50mls of any milk providing the nutrition information states:
Under 28 Kcal per 100ml
Under 2.5g of total carbs per 100ml
Under 2.5g sugar per 100ml
Under 0.5g of protein per 100ml
In a nutritional analysis comparison of lots of different brands and types of plant mylks we found that it's Alpro's fresh unsweetened: almond milk, cashew milk, coconut milk, coconut and almond milk plus Califa's fresh almond milk that all fit these criteria.
WHY DOES THE BRAVE METHOD RECOMMEND ADDING MCT INTO COFFEE + COLLAGEN?
By blending True MCT into either of our blends you add another layer of fuel to your day. You gain all the nourishing benefits of the hydrolysed collagen with the fuel and ketogenic potential of MCT. In the case of the Coffee + Collagen it could be that when the caffeine wears off, the MCT oils may still have you covered.
HOW SHOULD I PREPARE COFFEE + COLLAGEN? 
Our Coffee + Collagen is a Turkish grind which is a finely ground roasted coffee (not instant) and therefore should be used with a French press or Cafetière and add 250ml of hot water. If you just added the water the Coffee would suspend rather than dissolve so it would have a grainy texture. So, if you put 10g into your Cafetière and then pour 250ml of hot water into the cafetière cylinder and make sure the coffee grounds are saturated. It is then best to allow the Coffee to steep for a couple of minutes, then stir and then leave to stand for a further 5 minutes and the Coffee should then settle. If you are taking the Coffee + Collagen with MCT oil, this would then require blending for about 5 seconds until the Coffee is smooth and creamy. Any blender would be suitable.
WHY IS IT IMPORTANT FOR OUR COFFEE TO BE MYCOTOXIN FREE?
Mycotoxins are secondary metabolites of moulds and coffee is easily one of the largest sources of mycotoxins in the food supply. Some types of coffee have more mycotoxins than others. There's no benefit to mycotoxin exposure, and even tiny amounts within regulatory standards may impact the health of some sensitive individuals. The main mycotoxins are Aflatoxin B1 (a known carcinogen) and Ochratoxin A. We have taken the extra measure to ensure our coffee is not just organic and free of pesticides, but also free of undesirable moulds.
Nutrition
Typical Values

Energy
Fat
of which saturates
Monounsaturates
Polyunsaturates
Carbohydrate
of which sugar
Fibre
Protein
Salt
Per 100g

355kcal
9g
3.51g
0.76g
4.34g
22.12g
0.5g
30.05g
31.25g
0.18g
Per 10g serving

35.5kcal
0.9g
0.35g
0.08g
0.43g
2.21g
0.05g
3.01g
3.13g
0.02g
Key Ingredients
Organic Brazilian Coffee*
Grass-fed Bovine Hydrolysed Collagen Peptides
Organic Raw Cacao*
Organic Ashwagandha*
Organic Chicory Root*
Organic Baobab*
---
*All of the organic ingredients are certified by the Soil Association
Not suitable for vegans or vegetarians
Shipping
Delivery Costs
UK 
Free
Free shipping for all UK orders. Products are sent by our delivery partner Royal Mail 48 Hour Tracked. 

£4.95
For next day delivery on orders placed before 1pm, select Royal Mail 24 Hour Tracked. 
Europe 
For orders to the EU please visit ancientandbrave.com
USA and Canada
For orders over £180, delivery is free.
For orders under £180, delivery is £21. 
Please allow up to 14 working days for delivery via our partner DPD.
Rest of the World 
We are currently able to deliver to Australia, New Zealand and Japan.
For orders over £250, delivery is free.
For orders under £250, delivery is £29.  
Please allow 7-10 working days for delivery via our partner DPD 
Philippines
Please visit ancientandbrave.ph
Saudia Arabia, Kuwait, the United Arab Emirates, Qatar, Bahrain and Oman 
Please visit beauth.me 
How subscriptions work
Products are automatically delivered on your schedule. No obligation, modify or cancel your subscription anytime.
Learn More