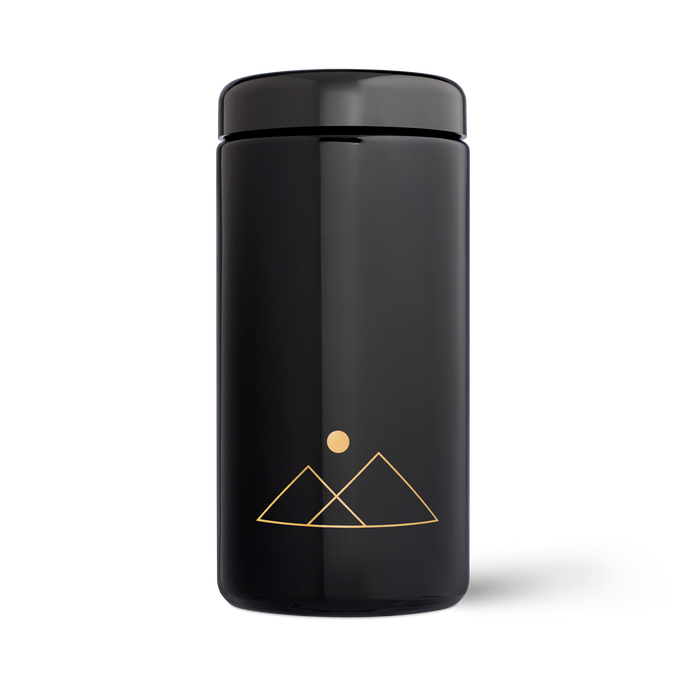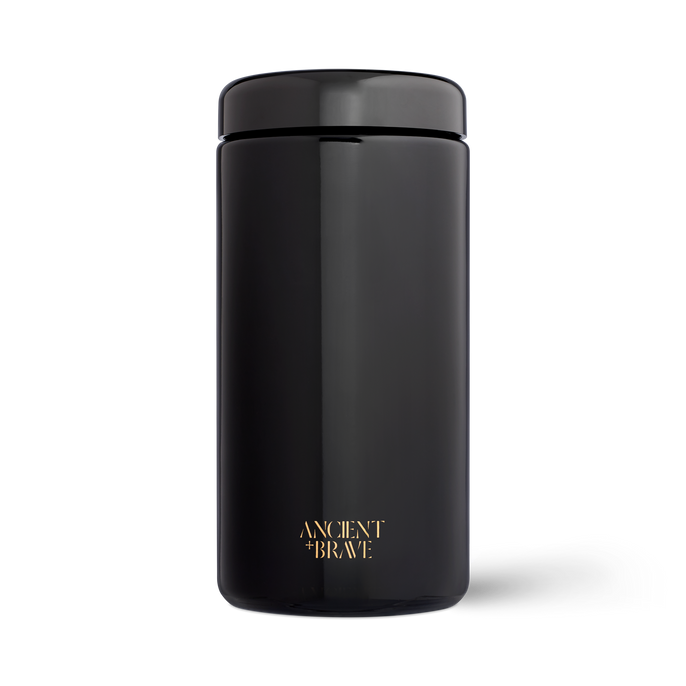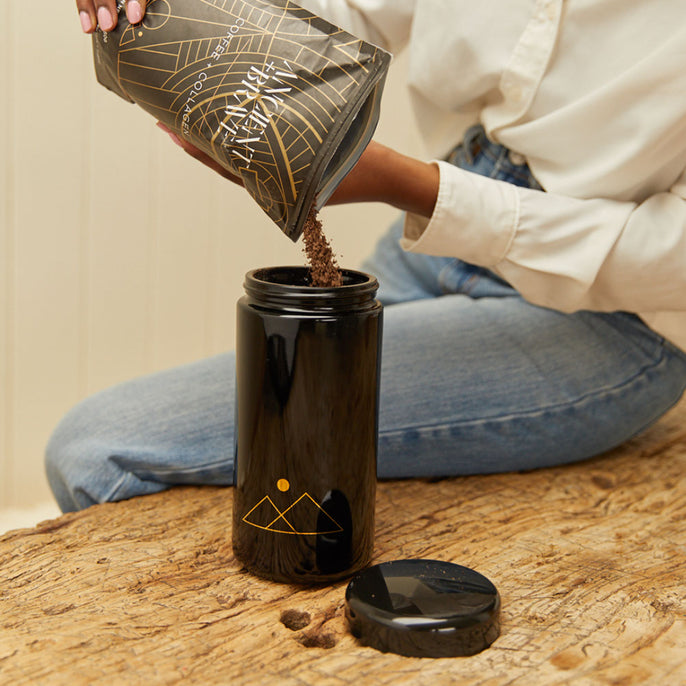 For every purchase you make we donate 1% for the Planet and an additional 1% to our chosen community charities
---
Ritual Jar
Make Ancient + Brave part of your kitchen aesthetic as well as your daily ritual with our new biophotonic glass storage jar. Designed to store your Ancient + Brave powders in style, helping to keep them fresher for longer. 
The Ritual Jar acts as a barrier to prevent the loss of the bioenergetic value of the product being stored. Biophotonic glass has unique properties to protect natural products from the harmful, degrading effects of sunlight.
It cleverly filters out the damaging UV and infrared rays, which means that your product inside is preserved and helps maintain its nutritional value, taste, colour and aroma for longer. The Ritual Jar can be used to hold absolutely anything that would benefit from its protective glass. 
The Ritual Jar is made without the use of solvents or adhesives. The biodegradable foil is baked onto the jar in a natural process. Please wash gently with cold water. Not dishwasher safe. Capacity 1 litre. 
Free UK delivery on subscriptions orders
Benefits
Preserve the taste, smell, colour and bioenergy of your favourite wellness product. 
Protect natural products from the harmful effects of sunlight to maximise their quality and preserve their lifespan. 
The violet colour of the glass is believed to denote harmony and wisdom and is the colour of the crown chakra. 
By using sustainable materials, we are minimising the impact on our planet.
You can find our gift jar in these bundles
The Coffee Ritual Bundle
Our supercharged organic coffee is the ultimate morning brew. We have accompanied this with our beautiful biophotonic glass jar for a delicious daily ritual.
1 x Coffee + Collagen
1 x Ritual Jar
1 x Bespoke Gift Box
The Radiant Ritual Bundle
Radiant is our nutritious berry blend to deeply nourish the skin from within and support natural beauty. To this we have added our beautiful glass wellness jar for the perfect daily beauty ritual.
1 x Radiant Collagyn
1 x Ritual Jar
1 x Bespoke Gift Box
The Cacao Ritual Bundle
Our deliciously warming Cacao + Collagen accompanied with our glass biophotonic jar for the perfect daily cacao ritual.
1 x Cacao + Collagen
1 x Ritual Jar
1 x Bespoke Gift Box
Shipping
When Will My Order Be Shipped?
We're currently receiving more orders than ever before - we're so grateful for you bearing with us whilst we get these sent out as quickly as possible. Currently this is within 3 - 5 working days. We promise that our products are worth the wait and thank you for your patience. 
Orders will be delivered in our bespoke Ancient + Brave packaging. We consider environmental sustainability in every aspect of our packaging and choose recycled and recyclable whenever possible – because all packaging deserves a second chance. Our FSC grade boxes and tubs are sourced from materials that meet strict standards to protect forests, animals and the people who depend on them.
Delivery Costs
UK 
Free shipping for all UK orders above £40 and all UK subscriptions.
Products are sent by our delivery partner Royal Mail 48 Hour Tracked. 
Europe 
For orders to the EU please visit ancientandbrave.com
USA and Canada
For orders over £180, delivery is free.
For orders under £180, delivery is £21. 
Please allow up to 14 working days for delivery via our partner DPD.
Rest of the World 
We are currently able to deliver to Australia, New Zealand and Japan.
For orders over £250, delivery is free.
For orders under £250, delivery is £29.  
Please allow 7-10 working days for delivery via our partner DPD 
Philippines
Please visit ancientandbrave.ph
Saudia Arabia, Kuwait, the United Arab Emirates, Qatar, Bahrain and Oman 
Please visit beauth.me 
How subscriptions work
Products are automatically delivered on your schedule. No obligation, modify or cancel your subscription anytime.
Learn More