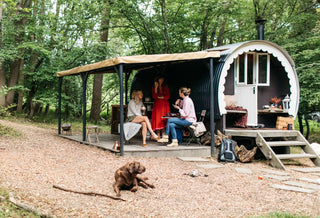 Reconnecting with nature - photoshoot, the Ancient + Brave way
Recently we had the pleasure of styling our latest photoshoot at the beautiful and tranquil Walk Wood Wagon, a picturesque getaway in an East Sussex woodland, local to Ancient + Brave.  This secluded hut situated in an ancient woodland is the escape you're dreaming of mid week - off-grid glamping with some home comforts thrown in.
Taking time to reconnect with the outdoors is essential to the Ancient + Brave lifestyle.  This shoot encapsulates the joy of spending time with friends and family in nature - recharging, re-grounding and enjoying a restorative brew.
The talented Emma Croman took some beautiful shots and we couldn't resist sharing this collection with you…
THE IMPORTANCE OF HUMAN REWILDING AND RECONNECTING WITH NATURE
Spending time outdoors and in natural environments is integral to the A+B lifestyle because we believe it gives us the opportunity to reconnect with our inherent, wild nature and to restore balance and harmony in doing so.
Alongside the calming and re-grounding influence of spending time outdoors, there are also suggested health benefits to be found when you literally, physically reconnect with the earth.  It has been proposed that spending just 30 minutes per day barefoot can significantly help you relax, level your emotions and can also support a balanced nervous system, showing just how important it is to keep in physical contact with the earth.  
Spending longer periods outdoors also gives us the chance to live in line with natural light cycles.  The modern world is full of artificial light which can commonly cause circadian rhythm disruption.  By reconnecting to natural light cycles we can rebalance and optimise our circadian rhythm, in turn helping to regulate our hormones, regulate serotonin and cortisol levels as well as improve sleep.
If you can find time to go outdoors and spend time in the natural world, your body and your mind will thank you for it.  You don't need to go off-grid to reconnect - you can find out more about our top ways to integrate human rewilding techniques into your modern lifestyle in our blog post 'Rewilding humans brains and bodies'.
ENJOYING OUR RESTORATIVE BREWS ON YOUR ADVENTURES
We are really excited to have launched our new True MCT sachets this month.  Our popular True MCT is a really great metabolic fuel for both your brain and your body.  And so just in time for all your travels and adventures this Summer, these handy individual sachets will support your energy levels whilst you're out and about.
We are used to all kinds of gadgets for blending and frothing in the kitchen but being off-grid, we were reminded just how simple it is to make a delicious hot brew when you get back to basics.  We used a cafetiere for our coffee and an enamel saucepan for our cacao, then simply upgraded with a sachet...
We recommend blending one True MCT sachet (10mg) with any hot drink.  (Alternatively, our True MCT oil is really versatile as it's colourless and odourless which means you can also easily add it to salad dressings or soups on the go).

We also have our True Collagen available in sachets, so you really can take your lifestyle with you.  Simply blend one sachet (5g) with any hot drink or smoothie.
MORE ABOUT WALK WOOD WAGON
If you're looking to hit pause and to step out of the busyness of modern life, this is the perfect location to spend time regrounding and reconnecting to nature.  
Just 50 minutes from London Victoria, this off-grid wagon is set in a private clearing in the woods of Sussex.  Complete with a luxurious outdoor Swedish bath, enjoy the calm of the ancient bluebell woods and surrounding National Park lands.  The natural beauty of the local area can't fail to help you reconnect with yourself, your companions and with nature.

To book this beautiful getaway, visit Walk Wood Wagon on Canopy & Stars.