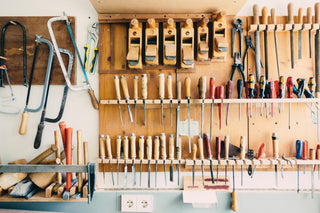 Building a greener future, one pallet at a time....
At Ancient + Brave, we put people and the planet at the heart of everything we do.  At every step of production, we take great steps to reduce our impact and help build a greener future. We are committed to continually improving our environmental performance as an integral part of our business strategy and operating model. 
We were thrilled when Justin at "How to Basically" invited us to spend the day with him and his team, to learn more about how we can reduce waste at our warehouse even further.
Justin Kelly (founder of "How to Basically") has created a beautiful workshop to educate, inspire and teach people practical skills. Through their workshops, they passionately focus on the art of repurposing old materials commonly found in households to reduce waste. 
In Justin's own words "I wanted to create a space to teach current and future generations simple, basic life skills which are mentally rewarding, better for the environment and save you money".
Justin taught us how to upcycle old pallets, transforming them into stunning benches – a truly unforgettable (and fun!) experience. During our course, we received a comprehensive demonstration on the safe and effective use of power drills, saws, and pallet breakers. Justin guided us through the proper disassembly of pallets (wearing safety goggles and gloves), sanding the wood thoroughly as well as measuring and cutting the pallet pieces to size. We then learned how to drill precise holes and securely fasten screws into them - ensuring that everyone was using the equipment correctly and responsibly. 
By the end of the workshop, we had gained skills in working with power tools and transforming pallets into usable furniture. Beyond the practical skills, it was also great to get the ever-expanding Ancient + Brave team together to work as one collective force. 
Thank you "How to Basically", for a wonderful, insightful and fun day!