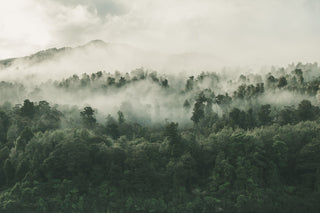 Putting people and the planet at the heart of business
You might have seen the 1% For The Planet logo on our products and wondered what it meant. It is something we are extremely proud of. It means that we give 1% of our total annual sales to environmental causes. Not profit: sales. Crucially, it means that our contribution to the planet grows as we grow.
Here at Ancient + Brave, our products rely on the earth's bounty. All our ingredients - from our organic botanicals to our wild harvested Hebridean seaweed, and True MCT from coconuts - are naturally occurring. We have made it central to the way we do business that environmental considerations are an integral part of our business strategy and operations. It is a task made every day more urgent by the climate emergency we all face. Every decision we take - from big ones like the sustainability of our ingredients and packaging, to smaller ones such as the pencils we buy for our zero waste office - is done through the lens of how we can lessen our environmental impact.
Even so, there is always an environmental cost to doing business. This is true of any business, even for one like ours with sustainability at its heart. While the costs might not be obvious, they should not be conveniently ignored. That is why we feel it is important to build that cost directly into our business model and give back to the planet through our partnership with 1% For The Planet.
1% For The Planet was founded by Yvon Chouinard (who also founded clothing company Patagonia) to certify reputable environmental giving, provide accountability for businesses and prevent 'greenwashing'. 1% For The Planet is a global network that connects businesses and consumers with environmentally linked not-for-profit organisations, and uses the power of this collective to drive big, positive change in the most pressing environmental issues this planet faces.
Each member business pledges to give 1% of its turnover (sales or salaries) to one or more of 3300 carefully selected not-for-profit organisations. With 1200 member businesses to date, collectively that makes a big difference. Since the idea was created in 2002, over $150 million has been raised.  In Yvon Chouinard's words: 'This is not philanthropy… It's paying rent for our use of the planet'.
In partnership with 1% For The Planet , we have chosen Rainforest Concern, and we give directly to them: there are no middle men. 1% acts as the certifier of our giving and of the organisation's credentials. So, we ensure our money has the biggest impact it can. Rainforest Concern is committed to delivering environmental education both in their project areas and in the UK. They research and monitor the habitats to help steer their conservation approach and provide an in-depth understanding of the rainforest.
If you haven't come across 1% for the Planet before, it is well worth taking a look at what they do, the organisations they fund and the businesses that are members. As well as business members, 1% are increasingly helping individuals to make more impactful environmental contributions. So if you are looking for more ways to personally tackle the climate crisis, 1% might be a really good place to start.
1% means that every time you use an Ancient + Brave product, as well as supporting your own wellbeing, you are part of a global, collective effort to support the health of our amazing planet and its communities. In addition to the immediate benefits of our financial contribution, being part of 1% is an important part of our pledge to do business differently. We are helping to build a different future relationship between business, communities and the earth we all rely on: a more cyclical relationship where businesses can positively impact our precious environment rather than destroy it. As part of the Brave community, you are part of that positive future.