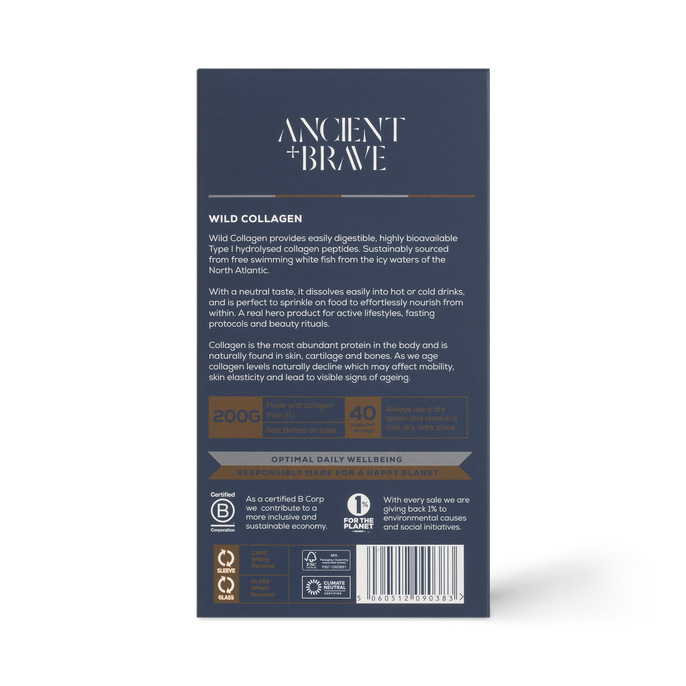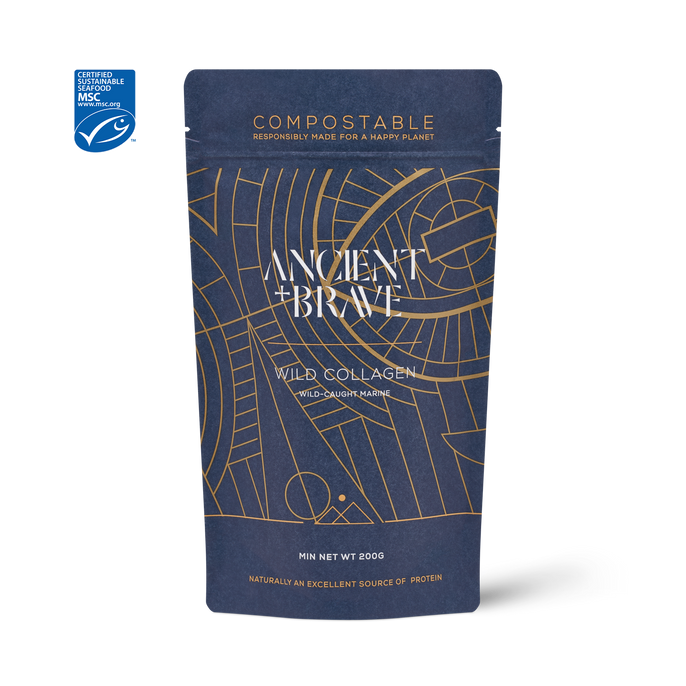 For every purchase you make we donate 1% for the Planet
---
Wild Collagen
Ingredients & Nutritionals
Ingredients
100% hydrolysed marine collagen (fish).
Amino Acid Profile
| Amino Acid | g/100g of protein |
| --- | --- |
| Glycine | 21.8 |
| Proline | 11.1 |
| Glutamic Acid | 10.2 |
| Arginine | 9.5 |
| Alanine | 7.9 |
| Hydroxyproline | 7.5 |
| Aspartic Acid | 6.4 |
| Serine | 6 |
| Lysine | 3.7 |
| Threonine | 2.8 |
| Leucine | 2.7 |
| Valine | 2.2 |
| Phenylalanine | 2.2 |
| Methionine | 1.9 |
| Histidine | 1.6 |
| Isoleucine | 1.3 |
| Hydroxylysine | 0.8 |
| Tyrosine | 0.7 |
Allergens in bold. Not recommended for those with a fish or shellfish allergy or intolerance.
Nutrition
| Nutrition | per 100g | per 5g |
| --- | --- | --- |
| ENERGY | 360kcal | 18kcal |
| FAT | 0g | 0g |
| of which saturates | 0g | 0g |
| monounsaturates | 0g | 0g |
| polyunsaturates | 0g | 0g |
| CARBOHYDRATES | 0g | 0g |
| of which sugar | 0g | 0g |
| FIBRE | 0g | 0g |
| PROTEIN | 90g | 4.5g |
| SALT | 0.78g | 0.04g |
Free UK delivery on subscriptions orders
Marie Claire

"There are thousands of supplement brands out there that purport to be sustainable, but Ancient + Brave truly has the eco-credentials to back it up. And frankly, we can't get enough."
"A beautifully pure and sustainable source of marine collagen to nourish your skin and body from within."
Jo Woodhurst


Head of Nutrition
Benefits of Wild Collagen
Highly bioavailable Type 1 collagen peptides with a neutral odour and taste.
Superior quality sourced from wild-caught marine for clean nutrition.
Key nutrients involved in cellular collagen renewal and formation.
Effortlessly nourishes and hydrates the body and skin from within.
Excellent source of protein and nutritional sustenance to support fasting strategies.
A hero product for active lifestyles and anti-ageing beauty rituals.
"I like to exercise, and I feel the collagen helps with that, as well as having good skin benefits. I use Ancient + Brave every night, as part of my wind-down ritual."
Martha Freud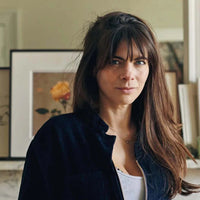 Ingredients
Collagen provides strength and integrity to the structural protein matrix found in skin, bones, ligaments, tendons and cartilage.
Collagen loss is a natural part of ageing which occurs from our 30's and increases as we grow older. Our hydrolysed collagen peptides are a specific size (under 5000DA's) for maximum absorption and efficient integration into targeted cells.
Sustainably sourced from the skin of wild caught white fish in the icy waters of the North Atlantic. 
With a neutral taste, it dissolves easily into hot or cold drinks, and is perfect to sprinkle on food to effortlessly nourish from within.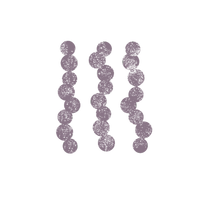 Your Method
Take 5 to 10g daily of Wild Collagen.  It is incredibly versatile and can be added to any hot or cold drink or food of your choice from your morning coffee or smoothie to soups and overnight oats.  
To truly nourish the skin from within we recommend 5g daily for normal skin types.  Increase to 10g or more to support hormonal acne, dehydrated or prematurely ageing skin.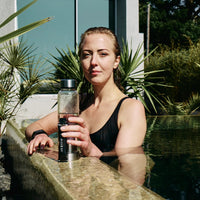 Other products you may enjoy:
FAQs
IS WILD CAUGHT COLLAGEN BETTER FOR YOU?
Wild caught fish are more likely to have a better nutrient profile compared with farmed fish thanks to their natural diets and active lifestyle. Farmed fish are often fed grains or pellets and are kept in small enclosures. This can mean they are at greater risk of lice and bacteria so are often treated with antibiotics and in some cases, hormones too. This has an impact on your own health when you ingest these compounds. Our fish are wild caught, free from hormones and antibiotics and sourced sustainably from the North Atlantic. 
WHAT IS THE DIFFERENCE BETWEEN MARINE AND BOVINE COLLAGEN?
There are a few key differences between marine and bovine collagen linked in our journal article here. Ultimately, marine collagen and bovine collagen are equally effective - one is not better than the other but it's more a matter of dietary preference and quality. As long as the quality of the supplement is high then it's source doesn't really affect the benefits you receive. 
One of the biggest advantages of marine collagen is its similarity to human collagen. Marine collagen displays a high resemblance to the amino acid profile found in human collagen. The peptide molecules are also very small in size, which means potentially it is absorbed efficiently and is easy to digest, which may be an important factor if you have any absorption issues or have experienced any digestive discomfort. From a dietary perspective, Wild Collagen is great for those on a pescitarian or halal diet. 
Whilst many studies also claim a major difference between marine and bovine is the Type of collagen found in each (e.g. Type 1 or 3) our True Collagen (bovine) only contains Type 1 peptides - just like our Wild Collagen (marine). Importantly Type 1 collagen is the most abundant in the body meaning it is broken down by the body and works effectively to heal and rebuild tissues. Bovine collagen is also free from the top 14 allergens, making it a preferred choice for those with shellfish or fish allergies. 
IS COLLAGEN STILL EFFECTIVE WHEN ADDED TO HOT DRINKS
The simple answer is yes! Although this doesn't mean that collagen is completely indestructible in heat, but it is very stable. According to a study published in the Biophysical Journal, the amount of heat you are going to need to destroy collagen isn't going to happen in your kitchen. The collagen samples used in the study did not begin to degrade until 300 degrees celsius - boiling water is only 100 degrees so your hot drink shouldn't make a difference to the peptides.
WHAT ARE HYDROLYSED PEPTIDES?
Our True Collagen contains hydrolysed collagen peptides which are a more available and absorbable form of amino acids,making it easy for our body to utilise. Collagen exists in nature as a very large, complex molecule constructed from lots of long chains of polypeptides. The collagen molecule itself is far too big to be absorbed across the gut wall, so it needs to be broken down during digestion into smaller chains called peptides. Once absorbed, these peptides are available to contribute to collagen renewal within bones, skin and connective tissue. 'Hyrdolysed' simply means 'unchaining' the long protein strands into smaller 'peptides' so we can absorb them more readily. This process is like having them 'predigested', making them more bioactive so we can take them up and absorb them easily to build important tissues.
WHEN SHOULD I START TAKING COLLAGEN?
We know that the body's ability to produce collagen naturally starts to drop in our early 20's. As we move past roughly 40 years old, it is thought that collagen depletes faster than our body can produce it. Therefore it possibly makes more sense to start taking collagen in your early 20s than waiting until you are older. However, just because you're past your 20's doesn't mean it isn't worth it to add it in now. Almost anyone can benefit from collagen, regardless of age or condition. If you're within the upper age bracket – say, over 45+ – you may want to increase the amount of collagen you take each day.
IS COLLAGEN GOOD FOR THE MENOPAUSE?
Collagen production is closely linked to the fluctuations in oestrogen levels and therefore when oestrogen drops, so does collagen formation. It is thought that up to 30% of dermal collagen is lost in the first 5 years of the menopause, however supplementation with Type 1 collageb peptides has been shown to stimulate natural collagen prodcution and improve skin elasticity, hydration and reduce lines and wrinkles. Collagen does so much more than just cosmetics though - from improved bone density (also a concern during the menopause) better joint health and benefits for the cardiovascular system, it can be a supportive supplement for the body during such a significant change. 
IS WILD COLLAGEN SAFE TO TAKE DURING PREGNANCY OR BREASTFEEDING?
You should always consult with your doctor or midwife regarding any new additions to your diet or supplements you take during your pregnancy and breastfeeding journey. Whilst there are also no studies available due to ethical challenges involving research in pregnant people, we aren't aware of any contraindications in taking any of our products whilst pregnant or breastfeeding and they should be well tolerated.
CAN COLLAGEN SUPPLEMENTS MAKE ME GAIN WEIGHT?
In short, no and in fact, collagen may actually be a vital tool in helping you maintain a healthy weight. Collagen is a protein, and has been scientifically proven to keep people feeling fuller and more satiated for longer. It has also been shown to help boost your metabolism by helping to build lean muscle mass which in turn helps your body burn calories more efficiently. 
DOES COLLAGEN SURVIVE STOMACH ACID?
Stomach acid plays a very important role in breaking down protein and yet hydrolysed collagen peptides are unlikely to be digested in the stomach at all and instead go to the small intestine to be absorbed. Enzymes in the small intestine work at breaking down chains of protein molecules called peptides into even shorter peptides and amino acids which can then be absorbed in the bloodstream. The peptides and aminos will be added to the amino acid pool and trigger the body to produce new collagen. 
Nutrition
Energy
Fat
of which Saturate
Carbohydrate
of which sugar
Fibre
Protein
Salt
Per 100g

360kcal
0g
0g
0g
0g
0g
90g
0.78g
Per 5g

18kcal
0g
0g
0g
0g
0g
4.5g
0.04g
Ingredients
100% hydrolysed marine collagen (fish).
Amino Acid Profile
Amino Acid
Glycine
Proline
Glutamic Acid
Arginine
Alanine
Hydroxyproline
Aspartic Acid
Serine
Lysine
Threonine
Leucine
Valine
Phenylalanine
Methionine
Histidine
Isoleucine
Hydroxylysine
Tyrosine
g/100g of protein
21.8
11.1
10.2
9.5
7.9
7.5
6.4
6
3.7
2.8
2.7
2.2
2.2
1.9
1.6
1.3
0.8
0.7
---
Allergens in bold. Not recommended for those with a fish or shellfish allergy or intolerance.
Shipping
Delivery Costs
UK 
Free
Free shipping for all UK orders. Products are sent by our delivery partner Royal Mail 48 Hour Tracked. 

£4.95
For next day delivery on orders placed before 1pm, select Royal Mail 24 Hour Tracked. 
Europe 
For orders to the EU please visit ancientandbrave.com
USA and Canada
For orders over £180, delivery is free.
For orders under £180, delivery is £21. 
Please allow up to 14 working days for delivery via our partner DPD.
Rest of the World 
We are currently able to deliver to Australia, New Zealand and Japan.
For orders over £250, delivery is free.
For orders under £250, delivery is £29.  
Please allow 7-10 working days for delivery via our partner DPD 
Philippines
Please visit ancientandbrave.ph
Saudia Arabia, Kuwait, the United Arab Emirates, Qatar, Bahrain and Oman 
Please visit beauth.me 
How subscriptions work
Products are automatically delivered on your schedule. No obligation, modify or cancel your subscription anytime.
Learn More